F.H. VARLEY
1881 - 1969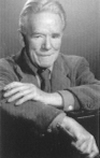 Of all the members of The Group of Seven, Frederick Varley was the most reckless in his life and personality. His moves to various parts of the country seemed predicated on the hope that life would be more fulfilling in a new environment. Not solely interested in landscape, he was fascinated with the human form, whether as a portrait, a facial study, or a figure in the landscape, and he has a lasting reputation as both a landscapist and a portrait artist.
Born in Sheffield, England, Varley studied - as did his childhood friend Arthur Lismer - at the Sheffield School of Art and at the Antwerp Academy, in Antwerp, Belgium. In Antwerp, Varley had a reputation of being a heavy drinker and leading a rather bohemian life. From Antwerp, he returned to London, where he almost starved trying to support himself as an illustrator. Four years later, on his return to Yorkshire, he married and fathered two children. In 1912, Lismer once again met up with Varley - who this time was depressed and struggling to support his family. Lismer persuaded him to come to Canada, where he found work first at Grip Ltd. and then at Rous and Mann where other Grip artists, such as Tom Thomson and Franklin Carmichael, had already gone.
Through Varley's friendship with Lismer, his employment, and his membership in the Arts and Letters Club, he became part of a circle of artists that included J.E.H. MacDonald and Lawren Harris. He found the artistic life in Toronto exciting, but he was often a difficult person to get along with because of his temperamental moods and rather unconventional ways. He did, however, find a close friend in Tom Thomson, who was like him in spirit. They went on weekend excursions, but rarely sketched together as Varley preferred people to trees for subject matter.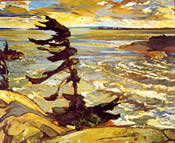 At first Varley concentrated on portraits and established himself as a painter of Toronto's elite society. Although this brought him much needed income, he disliked painting to order, and his ways often upset his clients. Despite these disturbances, Varley was respected as a great painter, and when World war I broke out, he was sent to France as a Canadian War Artist. Deeply affected by the carnage and devastation of the War, he did very poignant work. Perhaps his most famous painting is entitled "For What?" . He returned from the war matured both as an artist and as an individual. At this point, his interest in painting the Canadian north was awakened, and he began painting landscapes such as Stormy Weather on Georgian Bay.
In 1925 Varley accepted a full-time teaching position with the Ontario College of Art, but the following year he became an instructor of drawing and painting at the Vancouver School of Decorative and Applied Arts. Although he found the art community on the west coast conservative and had differences with the school, his decade there was a happy one. He enjoyed teaching, made good friends and found the mountainous landscape inspiring. The paintings of this period also reflect varley's increasing interest in a symbolic colour theory related to Buddhist spiritual values.
By 1936 Vancouver was no longer a viable home for Varley. The independent art school he had co-founded had failed financially and his marriage had ended. He returned to central Canada, where he hoped to re-establish himself as a teacher and portraitist. However, the years spanning World War II were difficult ones for the artist, and, dissatisfied, he eventually settled in the Toronto area which remained his base for the last twenty-five years of his life.
Sources: The National Gallery and 'The McMichael Collection'