TOM THOMSON
1877 - 1917

Since his untimely and mysterious death in 1917, Tom Thomson has become the most famous artist in the history of this country and his life has become a Canadian legend. He was raised on a farm in Owen Sound, Ontario, and as a young man seemed unable to settle down. He eventually found work in a photo-engraving firm in Seattle. By 1905 he was back in Ontario. He joined a Toronto commercial art firm, Grip Ltd. There he came into contact with men with serious artistic ambitions - J.E.H. MacDonald, Frank Johnston, and later Arthur Lismer and Franklin Carmichael.
When he joined their weekend sketching trips outside the city, Thomson's art improved, and he was encouraged by his colleagues and by his expanding circle of friends: Lawren Harris, Frederick Varley and A.Y. Jackson. Thomson in turn enthusiastically conveyed to the other artists his affinity for northern Ontario, particularly Algonquin Park, which he had first visited in May 1912; the area became his preferred place for the rest of his life. When in 1914 he gave up his work to paint fulltime, Thomson spent spring, summer, and fall in the Park, returning to Toronto only in the coldest winter months. An accomplished outdoorsman, fisherman and canoeist, Thomson earned a subsistence living as a guide at Algonquin, a lifestyle that freed him to work in the natural setting he loved and painted. In the winter he lived in a rented construction shack behind the Studio Building in Toronto, where he produced large canvases worked up from the previous season's outdoor sketches. His West Wind and The Jack Pine have become two of the best-known works of Canadian art.
The final years of Tom Thomson's life saw the full flowering of his talent. He found a way of life that suited him admirably and a confidence in his painting that established his mature style. Thomson did not simply depict the the literal appearance of the Algonquin landscape; his interest was in showing its moods, weather and seasonal changes.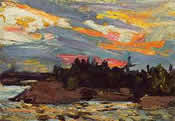 The work in this collection of prints demonstrates Thomson's artistic power at its height. Thomson painted on the spot on small wooden panels about 8" x 10", revealing the artist's immediate impressions of the day - ie. Split Rock Gap, Sunrise, Sunset, Canoe Lake. Thomson's technique captures the movement of clouds and the sensation of light and shadow. The format is a recurrent theme in his work: the low horizon of land is dwarfed by the more massive formations overhead, no matter what the time of day or weather conditions. Thomson also favoured more initimate corners of the wilderness. Many paintings, such as Autumn Garland, Snow In The Woods and Autumn Birches, reveal the patterns and the subtle colour tones of a scene closely viewed.
Tom Thomson died suddenly by drowning in Canoe Lake in his beloved Algonquin Park at the age of thirty-nine. Today the event is still the subject of debate over whether he died by accident or foul play. Whatever the truth, his loss was deeply felt by those artists around him who, three years later, would form The Group of Seven. His love of the north and his bold and experimental style had been inspirational to them. Since then Canadians have been captivated both by the story of his life and by his exciting paintings of Ontario's northland. Lismer called Tom Thomson "the voyageur, the discoverer...He felt nature - he adored her - crept into her moods,....and his canvases lived in the Canadian mind."
Sources: The National Gallery and 'The McMichael Collection'