A.J. CASSON
1898 - 1992

A.J. Casson is known for his depiction of the gentler, more civilized areas of southern Ontario, areas of small villages and farms, the forests and rolling hills of "cottage country" (ie. Lake Kashagawigamog). He deliberately sought subjects in contrast to the preferred material of other Group members; his interpretation of the subtle variations of summertime green (ie. Blue Heron) has become a trademark of his work.
Casson was born in Toronto, Ontario but grew up in Guelph and went to school in Hamilton before moving back to Toronto at the age of seventeen. In 1919 Casson was taken on by the commercial art firm of Rous and Mann in Toronto, a move that was of great significance for him. Apprenticed to Franklin Carmichael, he was encouraged by the older man to continue sketching and painting on his own. Casson openly admits his immense debt to Carmichael as a designer and painter.
Carmichael also introduced his new employee to the Arts and Letters Club, where he met many of the era's most prominent artists, including members of The Group of Seven. Encouraged by Carmichael and others, Casson continued to paint seriously in his spare time throughout the 1920's, and his subject matter reflects the interests of The Group of Seven.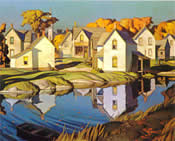 The watercolour medium fascinated Casson throughout his career, and in 1925 he, Carmichael and F.H. Brigden founded the Canadian Society of Painters in Watercolour, an association that continues actively to this day. The following year (1926) Casson was invited to join The Group of Seven. The Group's numbers had been depleted with the departure of Frank Johnston, and Casson, as an invited contributor to Group shows, seemed the appropriate replacement.
Casson continued at Rous and Mann until 1927, when he joined Sampson-Matthews, eventually becoming their art director and vice-president until his retirement in 1957. In his spare time he continued his paintings, as well as his involvement with various art societies and associations. Upon the dissolution of The Group of Seven, he became a founding member of the Canadian Group of Painters in 1933.
Casson developed a painting style distinctly his own. His design background is evident in the clear lines and well-thought-out compositions of his mature work, such as The White Pine of 1957. He depicted the pastoral pioneering Ontario that has now vanished in the face of a noisier urban world. His work has become much loved by the Canadian public, and his accomplishments have been recognized with honours from many organizations. His work reflects the ideals of The Group of Seven, yet it has provided insight into a part of Canada he knew and loved well.
Casson belonged to the second generation of painters working in The Group style. He was able to slip into their ranks without going through the same struggle and experimentation that the older painters did in their formative years. It is often thought that the major contribution of Casson and Carmichael to The Group was in reviving the neglected art of watercolour painting. Both of them enjoyed working in this medium, which was perfectly suited to their approach and to their work in the commercial field.
Sources: The National Gallery and 'The McMichael Collection'